The high mountains, the impressive volcanoes and the blue sky
The Argentinean Northwest is the region of the high mountains, the impressive volcanoes and the blue sky.
It includes Jujuy, Salta, Catamarca and Tucumán provinces.
In colonial times, the densely populated northwest was the River Plate's link to the Viceroyalty of Peru and to Spain, and its palpable indigenous and colonial landmarks—set among incomparable mountain and desert scenery—are the region's strongest assets.

Northwest Argentina maintains the roots of the region's pre-Columbian cultures though influenced by the habits and customs of the Puna. This enormous plateau is located at an altitude of 3,500 metres and stretches beyond Argentina, to Chile and Bolivia. It was precisely these cultures from the north of the continent that converted this zone into pre-Hispanic Argentina's nerve centre, later transferred to Buenos Aires, where the emancipation of the country originated.
The northwest has a rich legacy of this past, in the way of invaluable indigenous ruins, works of art, in which the influence of the pre- and post-Hispanic eras, form the special style of the region, and the colonial architecture, clearly evident in the buildings and particularly in some churches still in use.
Its most beautiful places are La Quebrada de Humahuaca, The Calchaquíes Valleys, Salta city and El Tren a las Nubes (Railway to the Clouds) . This area was called "Pachamama" (Mother earth) by the natives Incas.
In addition to its historic and scenic appeal, the Northwest can claim a unique, underappreciated status as a wine region. The areas around Cafayate can boast distinctive high-altitude wines, including what most consider to be Argentina's top Torrontés.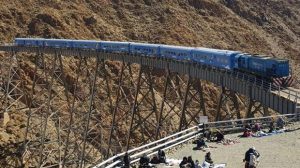 Quebrada de Cafayate – Salta

The inhabitants of the Argentinian Puna, in the northwest, still proudly maintain numerous ancient traditions. Known as "collas", they maintain the cult of "Pachamama" giving thanks to Mother Earth who makes the "maize grow and livestock multiply" even though they are, simultaneously, profoundly Christian. They sing and dance to the rhythm of their folkloric instruments: the charangos, quenas, erkes, cajas and bombos; they weave the wool of the vicuñas, sheep, and llamas, making blankets and ponchos, and sometimes talk in Quechua, the language of their forefathers.